SALE 1+1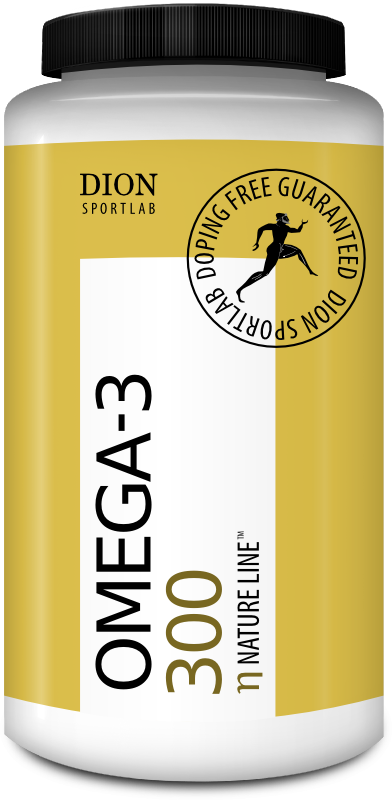 | | | | | |
| --- | --- | --- | --- | --- |
| | | 7.99€ | -10% | 7.19€ |
| | | 10.99€ | -10% | 9.89€ |
| | | 21.98€ | -33% | 14.69€ |
7.19€
60 caps.
in stock > 100 pcs.
η OMEGA-3 300
Omega-3 30% fish oil
Ingredients:
1 caps.
NRV*
ηOMEGA3-SALMON™ Fish Oil Concentrate, contains:
Omega-3 fatty acids, incl.:
EPA 20:5 Eicosapentaenoic acid
DHA 22:6 Docosahexaenoic acid
Vitamin E (Tocopherol)
1000 mg
300 mg
180 mg
120 mg
3 mg
**
**
**
**
42%
NRV* – Nutrient reference values.
** – NRV not established.
Capsula: gelatin, humectant – glycerol.
EPA
and
DHA
contribute to the maintenance of normal blood triglyceride levels. This effect is obtained with a daily intake of 2 g of EPA and DHA. Do not exceed a supplemental daily intake of 5 g of EPA and DHA combined.
EPA
and
DHA
contribute to the normal function of the heart. DHA contributes to maintenance of normal brain function and of normal vision. This effects is obtained with a daily intake of 250 mg of EPA and D
Directions:
Take 1-2 capsules daily with food, or as recommended by your doctor.
Do not exceed the recommended daily dosage. Food supplement. Do not use food supplement as a substitute for a wholesome and balanced diet. Keep out of the reach of children. Store at room temperature.

Salmonidae
Fish oil concentrate is obtained from salmon fish (
Salmonidae
). Low Temperature Extraction Technology prevents the denaturation of Omega-3 and preserves all natural qualities of these polyunsaturated fatty acids in supplement.