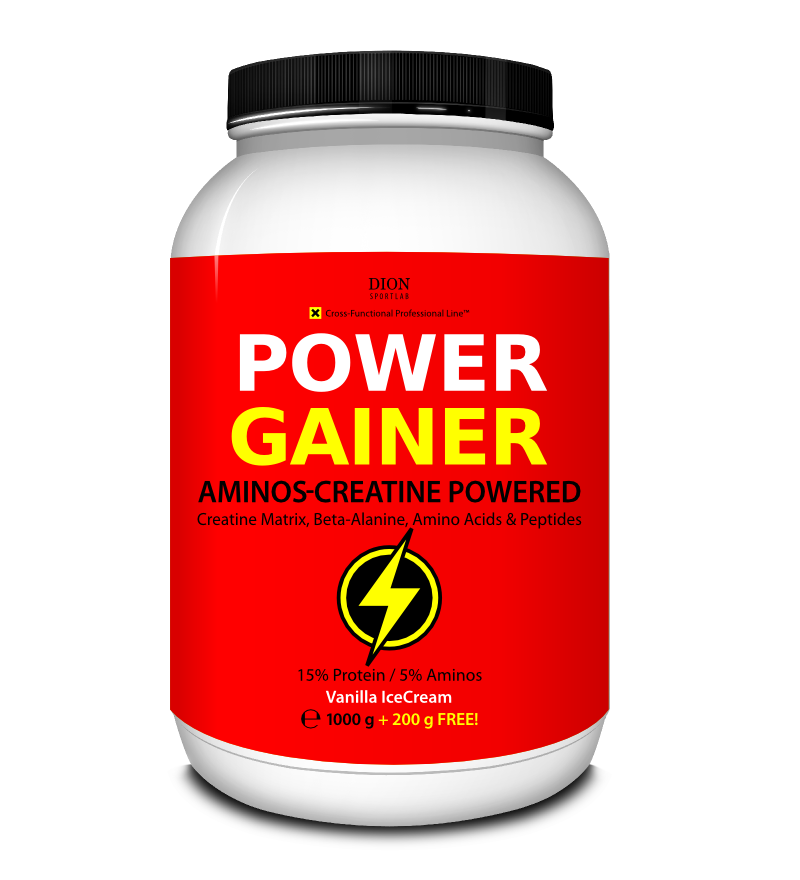 | | | | | |
| --- | --- | --- | --- | --- |
| | | 16.99€ | -5% | 16.19€ |
| | | 29.99€ | -50% | 14.99€ |
14.99€
2.5 kg vanilla [XL-SALE]
Sold out
at stock from 12.04.2018
× POWER GAINER
Gainer all-in-1
Carbohydrate-protein drink "All-in-1".
Sports food.

Ingredients:
maltodextrin, dextrose, whey protein concentrate & isolate (from milk), creatine monohydrate, tricreatine malate, PeptoPower™ – hydrolyzed collagen peptides, fructose, β-alanine (0,625%), flavourings, sodium chloride, thickeners (xanthan gum, guar gum), emulsifier (soy lecithin).
Nutrition Declaration
100 g*
Energy

Fat
of which saturates
Carbohydrate
of which sugars
Fibre
Protein
Salt
1660 kJ=
390 kcal
0,4 g
0,2 g
78 g
39 g
0,3 g
15 g
1,2 g
* 100 g = 3×50 ml scoops (spoop is included).
Density of powder is inconstant, so slight variations of the scoop serving size are possible.
For precise result weight scales can be used.

How to use:
Mix 3 scoops (100 g) and 500 ml of water or milk.
Take 1 dose before the workout and another dose – at the end of workout.

Caution:
1 serving contain 625 mg of Beta-Alanine!
Beta-Alanine may cause a harmless temporary flushing or tingling sensation on the face, neck, arms and chest. These are normal symptoms, with continued use the intensity of the sensation normally lessens or disappears.
Begin use with ¼-½ of the recommended dose and assess your tolerance. Once tolerance is assessed – take a maximum dose.

Info:
Protein contributes to a growth in muscle mass and to the maintenance of muscle mass.*
Creatine increases physical performance in successive bursts of short-term, high intensity exercise. The beneficial effect is obtained with a daily intake of 3 g of creatine.*
* This statement is scientifically proven by the EFSA (European Food Safety Authority) and authorized by the EC (European Commission) EU №432/2012 of 16.05.2012.