SALE-30%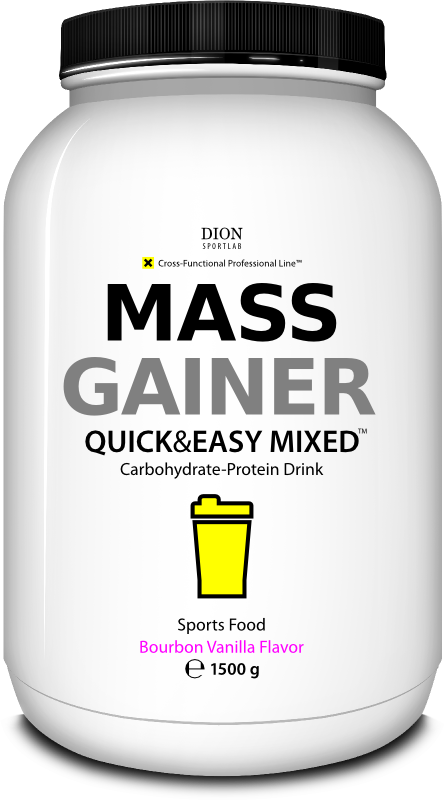 | | | | | |
| --- | --- | --- | --- | --- |
| | | 13.99€ | -30% | 9.79€ |
| | | 13.99€ | -30% | 9.79€ |
| | | 13.99€ | -30% | 9.79€ |
9.79€
1.5 kg strawberry
in stock > 100 pcs.
× MASS GAINER
3D Nutrien Matrix™
Sports food.

Ingredients:
maltodextrin, dextrose, protein complex (milk proteins (whey protein concentrate & isolate, casein), hydrolyzed beef protein, glutamine peptides (wheat protein hydrolysate)), creatine monohydrate, flavourings, thickeners (xanthan gum, guar gum), sodium chloride, emulsifier (soy lecithin).
Nutrition Declaration
100 g*
Energy

Fat
of which saturates
Carbohydrate
of which sugars
Fibre
Protein
Salt
1634 kJ=
385 kcal
0,4 g
0,1 g
80 g
35 g
0,5 g
15 g
1 g
* 100 g = 3×50 ml scoops (spoop is included).
Density of powder is inconstant, so slight variations of the scoop serving size are possible.
For precise result weight scales can be used.

How to use:
Mix 3 scoops (100 g) and 500 ml of water or milk.
Take 1 dose before the workout and another dose – at the end of workout.

N.B.:
Protein contributes to a growth in muscle mass and to the maintenance of muscle mass.*
Creatine increases physical performance in successive bursts of short-term, high intensity exercise. The beneficial effect is obtained with a daily intake of 3 g of creatine.*
* This statement is scientifically proven by the EFSA (European Food Safety Authority) and authorized by the EC (European Commission) EU №432/2012 of 16.05.2012.
Carbohydrate-protein drink with creatine.